Texture Analysis Solutions
Tofu Hot Dog Shear Resistance
Highlights
Objective measurement of physical mouthfeel properties sensed in biting a meat-based hotdog to optimize a meat-free alternative
Repeatable test method replicating the best sensory correlation for biting into meat using a software-controlled texture analyzer
Precision compression probe to deform and rupture indentical test samples
Quantified hardness texture correlated to the firmness of meat products using vegtarian, vegan an plant-based formulations
Situation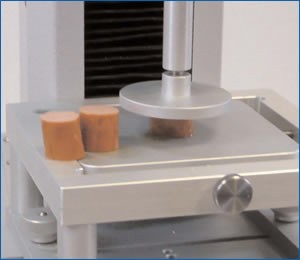 Meat processor wanted to develop a vegetarian alternative to popular meat based hotdog using tofu. Good correlation with sensory properties was required from an instrumental method.
Textural properties of vegetarian, vegan and plant-based derivatives of traditional meat based products are critical. local market for hotdog sales and wanted to repeat this success with their vegetarian alternative.
Method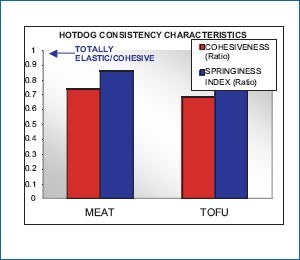 Hardness to bite (shear resistance) and hardness to touch (perception of springiness) were identified as critical texture properties of the meat based hotdogs. Instrumental texture analysis imitated these conditions through shear and compression testing. The cohesiveness and springiness are determined by calculations from two compression cycles, which replicate the chewing of the sample.
Correlated with sensory properties
Measure effect of process formulation changes during product matching
Vegetarian product developed matches profile of original
Significance
A reproducible and objective method for measuring and comparing meat and vegetarian/vegan/plant-based products in the development process