Texture Analysis Solutions
Potato Firmness for Dicing and Cooking Profile
Highlights
Reproducible quality selection check after processing salad potatoes prior to final product packaging
Repeatable test method to grade incoming supplier raw ingredients by software-controlled texture analyzer
Industry-standard compression-shear fixture for bulk sample analysis of overall firmness and stickiness
Quantified hardness and adhesiveness texture to optimise cooking profile and dicing parameters
Customer
Ready-prepared salad manufacturer required simple and reproducible method of measuring the texture of diced potato used in the production of chilled salad.
Problem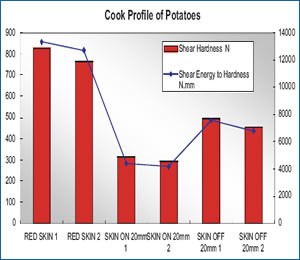 Variation in texture and consistency of cooked potato from internal and external suppliers. Potato was either too hard and icy or too soft and crumbly.
Solution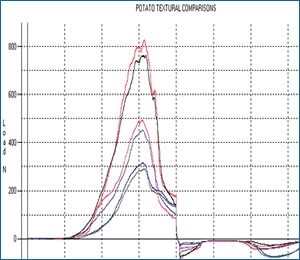 Kramer shear cell was used to measure representative sample from each batch of potato.
High and low tolerances established in conjunction with sensory analysis
Cooking optimised between suppliers and variety
Quality standards set for good and bad product
Benefit
Consistent production
Reduced customer complaints due to under or overcooked potato