Texture Analysis Solutions
Chicken Patty Shear Resistance
Highlights
Objective comparative measurement of physical mouthfeel properties sensed in biting a poultry product before and after cooking
Repeatable and quick test method on a breadcrumb-coated, reconstituted meat food item using a software-controlled texture analyzer
Industry-standard Kramer fixture to compress and shear irregularly-spaced muscle and flesh components averaged throughout the patty
Quantified hardness texture correlated to the ideal firmness and tenderness of meat in processed and shaped form
Situation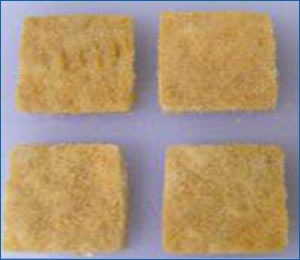 A large processor of natural meat products was looking for a way to better control its outgoing product. Current methods involved a simple visual inspection and are very subjective.
As with most processed food products, the incoming raw ingredients are constantly changing. Meat products are especially troublesome as the texture varies in individual animals. Because of this, the process is under constant manipulation in order to produce a consistent product. Also, the inherent variation in the product requires a method that is going to give a good representation of the whole product, not just a few points.
Method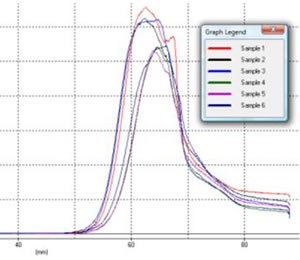 Before testing, samples were allowed to equilibrate to room temperature (about 72 F°). Samples were then cut into squares using a template so they would fit into the CS-1 test cell. Some of the product was heated to show the difference in texture after cooking.
After cutting, a sample was placed flat in the bottom of a standard shear cell. This cell consists of 10 blades that first compress and then shear through the product. Because this tests at several points instead of just one, the results are more reliable and more repeatable. The test was done using a TMS-Pro at a speed of 250 mm/min to a distance that allowed the blades to shear completely through the product.
Significance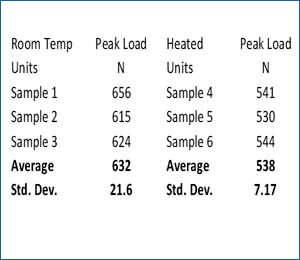 Quick and easy test that gives repeatable, objective results
Allows for more concise control of textural attributes of the product
Once limits are in place, the processor will be able to make quick decisions on the quality of the product and make changes to the process if necessary