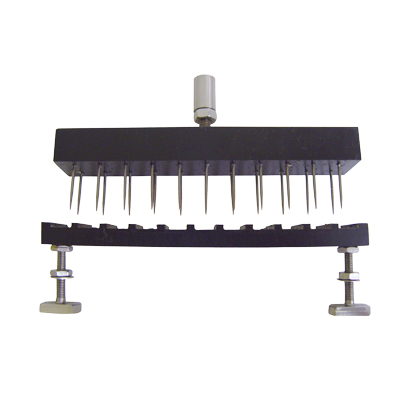 The TMS multiple probe fixture consists of matching upper and lower parts to penetration test multiple individual samples of baton-shaped products.
The upper accessory has an array of 20 stainless steel needle tipped rods arranged in rows of pairs. The lower fixture aligns flat raised supporting surfaces to present the product sample(s) to an individual needle probe. By placing a sample across the supports, bridging the gap, the middle of the sample is presented to the probe, with clearance below to allow for complete penetration.
If required, the pitch of the needles and supports may be modified to accommodate other products – contact FTC with your own specification.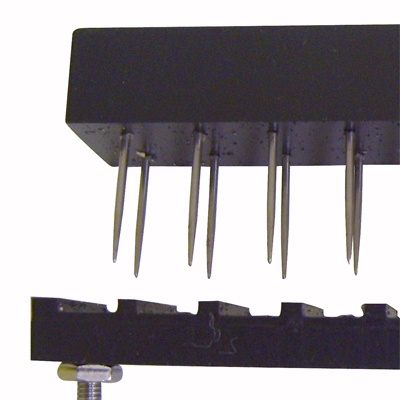 Applications
Overall firmness or penetration resistance of a number of individual product samples
Consistency of French fries, to control cooking profile
Contents and summary
Part Number
Description
432-253
TMS MULTIPLE PROBE FIXTURE
Set of 20 stainless steel rods with corresponding base holder for the measurement of French fries and other baton shaped products. Easily adapted for use with bean and berry shaped samples at customers request.
Notes
Optionally, for sample presentation, use: TMS standard fixture table (432-243)
Images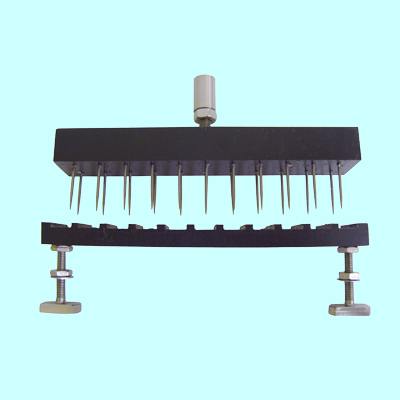 Got a question about a solution? Get in touch and speak to one of our Technical Sales Engineers now...
Speak to an expert