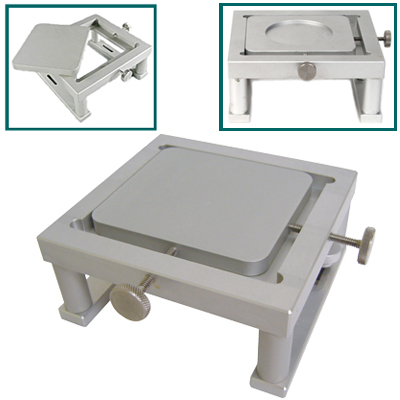 Used in conjunction with the TMS range of fixtures, the TMS standard fixture table is used for easy configuration and alignment of the test hardware. Samples can be tested directly on the flat surface of the base plate provided, or products can be tested in their containers. The reverse of the base plate supplied is designed with a 63mm recess. This enables, for example, rapid alignment of Bloom samples used within gel strength assessment.
This fixture is much more than a simple testing platform, it is designed so that the base plate supplied can be removed and replaced by other standard Food Technology Corporation test fixtures. Each compatible accessory is securely held in place with the two thumbscrews provided. Its extra height allows test probes to completely pass through samples.
Used in conjunction with the 'T' slot base plate, the fixture table is fully adjustable allowing fine precision alignment under a TMS texture analyzer's travelling beam. Dual movement both horizontally and vertically, means quick, accurate set-up of tests.
In addition, the table is designed to accept competitor fixtures and accessories with dimensions up to 108 mm x 100 mm. This maintains consistent test conditions and facilitating cross-correlations between different instruments - for complete confidence when transferring texture methods between testing locations.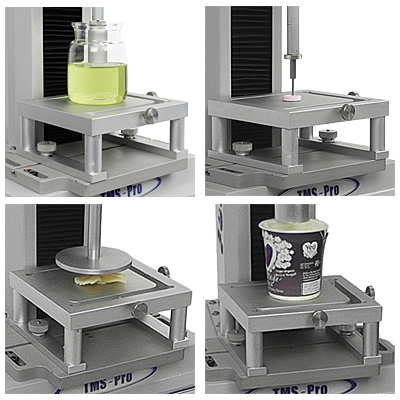 Applications
Break tests using the TMS mini vice and three-point bend
Shearing tests using the Volodkovitch bite jaws
Puncture and penetration tests using the TMS small sample holder
Shearing tests using the TMS wire shear probe and plate
Bulk analysis tests using the FTC Kramer Shear Standard Compression Cell
Shearing tests using the TMS light weight blade set
Hold containers securely in place for extrusion and penetration tests using the TMS container grips
Contents and summary
Part Number
Description
432-243
TMS STANDARD FIXTURE TABLE
Standard test table to for easy configuration and alignment of TMS test fixtures. Accommodates competitor accessories and fixtures for consistent test conditions between laboratories. Supplied as standard with TMS-Pro instruments
Removable platform (100x90x10 mm)
Two 10-32 thumb screws to secure platform or other fixtures in place
Maximum rating of 5000N
Images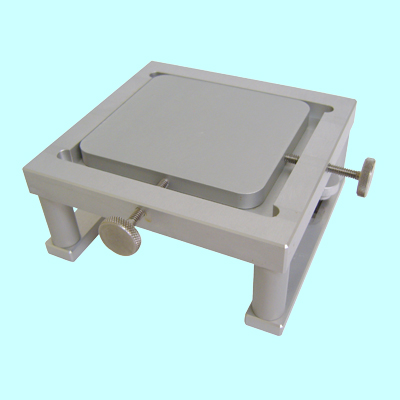 Got a question about a solution? Get in touch and speak to one of our Technical Sales Engineers now...
Speak to an expert