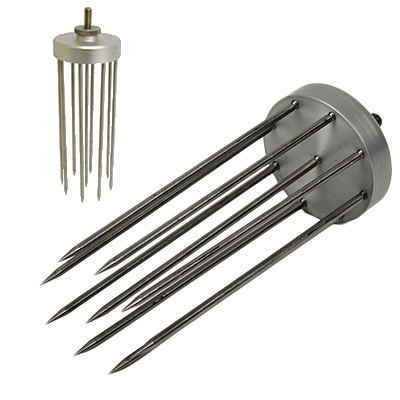 The TMS multiple needle probe consists of nine 120mm long stainless steel needles with a 15º taper at the tip. Each needle has an individual diameter of 2 mm and is removable to aid cleaning and provide food technologists with configuration flexibility.
The whole assembly has a diameter of 50 mm, which comfortably travels through the neck of standard 1lb (454 g) preserve or jam jars making it ideal for in container testing of jams, jellies, pickles and preserves. These products are very inhomogeneous in texture supporting varying sizes of fruit and vegetable pieces and, as such, cannot be measured easily through single point penetration.
Applications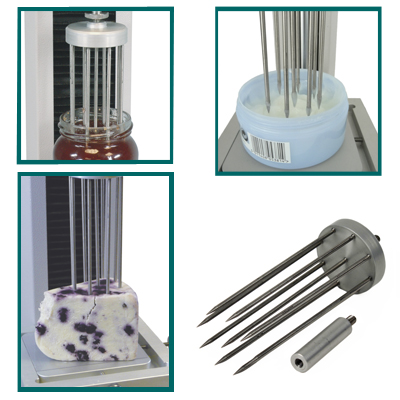 Gel strength testing of fruited jams, jellies and preserves
Set properties of English pickle
Rupture point of set marmalade
Firmness testing of fruited yogurts, cosmetic creams, etc.
Hardness and "scoopability" testing of ice-creams containing nuts, biscuits and confectionery inclusions
Bake quality of fruited cakes and puddings
Fracture and firmness of baked cookies and chocolate chip cookie dough
Biscuit hardness and friability through penetration
Curd strength of fruited speciality cheese
Toughness, resilience and rupture properties of processed meats and burgers
Contents and summary
Part Number
Description
432-249
TMS MULTIPLE NEEDLE PROBE
Set of 9 stainless steel needle probes with 15 degree end taper for the measurement of jams, jellies and other inhomogeneous products.
Notes
This part replaces TMS Junior Multiple Probe Fixture (432-252)
Optionally, for sample presentation, use: TMS standard fixture table (432-243)
Images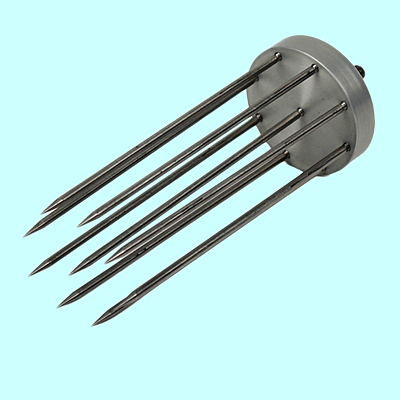 Got a question about a solution? Get in touch and speak to one of our Technical Sales Engineers now...
Speak to an expert