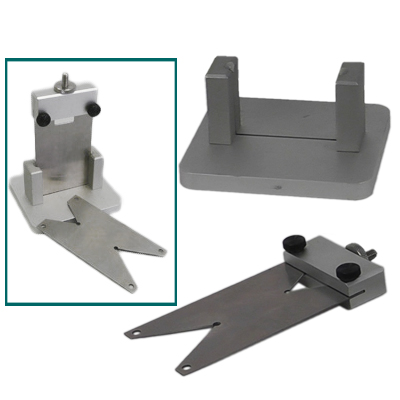 Food Technology Corporation's TMS shear blade set has been designed to replicate the specification of the original Warner-Bratzler blade - triangular notch and 0.04 inch (1.2 mm) thickness. The test set should be used in conjunction with the TMS standard fixture table to allow blades to pass completely through samples during shear testing.
The fixture set comprises of a blade holder with 2 locking screws. A central slot allows free movement of the blade to limit friction during analysis. Each blade is manufactured from stainless steel, reversible and 1 mm thick.
The first blade has a plane flat bottom and a 20 mm notched end. The second has a 44 mm and a 32 mm inverted "V" with small, circular, central cut out. The stainless steel blades travel through 35 mm high guide arms positioned 50 mm apart into a 1.4 mm wide slot at the base – these dimensions govern the size of samples used in assembly.
Applications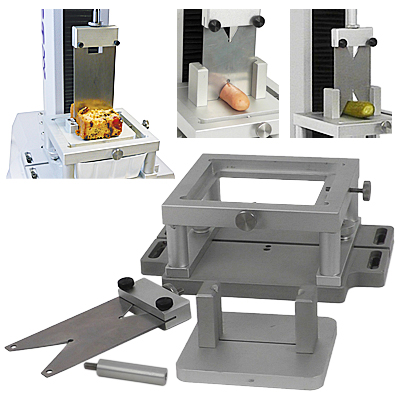 Shear forces to compare meat tenderness
Cross-section evaluation of nougat bars to determine hardness
Cutting force to measure hardness of bite in fudge
Crumb hardness in fruited cakes
Stalk softening in frozen broccoli florets
Asparagus stalk toughness
Cutting resistance of soft cheese
Slicing hardness and properties in hard cheeses
Bite force in prepared meats and hotdog sausages
Shear toughness of chicken breast
Contents and summary
Part Number
Description
432-245
TMS LIGHT WEIGHT BLADE SET
Precision stainless 1.2mm thick steel blades accurate testing of low force applications. Set consists of 2 Warner-Bratzler type options, notched and flat end configurations for maximised test flexibility. Includes base plate for easy alignment and complete shearing through sample. Recommended for use with 'S' beam type load cells in applications below 1000N.
Notes
Ideally used with heavy duty design load cells, maximum rating of 1000N dependent upon load cell fixing.
Images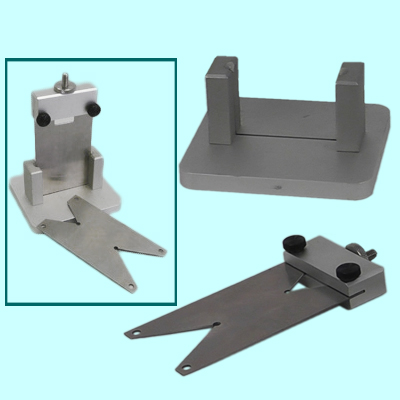 Got a question about a solution? Get in touch and speak to one of our Technical Sales Engineers now...
Speak to an expert