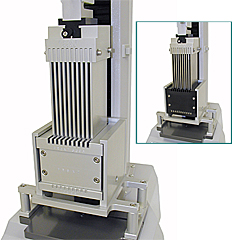 The main advantage of the Kramer Shear Cells (KSC), is that a large sample of the product can be tested at once. This gives a better average value of texture then testing one small piece of food multiple times and speeds texture assessment. The Kramer Shear Cell faithfully reproduces the actions of consumption by shearing, compressing and extruding the sample, measuring them together and providing increased reproducibility in a highly variable product.
One side effect from testing such an increased sample size is that higher forces are generated as a result. Since competitor systems cannot supply the higher forces, mock up designs like the "Mini Kramer/Ottawa Shear Cell" were developed to try and copy the original Allo-Kramer design. In a sense this defeats one of the big advantages derived from the ability to test larger samples.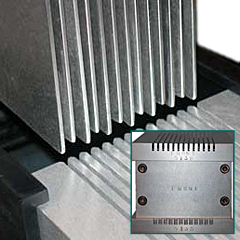 The Thin Blade Shear Compression Cell, CS-2, employs thirteen (13) thin blades, each 1.5 mm (1/16-inch) in thickness, instead of the ten (10) of the standard cells.
The CS-2 also has 13 smaller grid opening slots to accommodate the size of smaller particles. The thin blade cell is used for textural measurements on cooked rice, cereal, and other small unit products. The size and volume of the cell is identical to that of the Standard CS-1 cell.
FTC offers a variation of the thin blade fixture made from stainless steel blades and a Delrin cell (CS-2A) for high acid food samples, like diced tomatoes and salsa.
Applications
Quality and gristle content of ground beef
Measure crispness of biscuit inclusions
Curd firmness to assess bulk properties
Moisture related toughness of croutons
Test roasted vegetables to obtain batch optimization
Measure the effect of cooking conditions on rice texture
Contents and summary
Sample holder
Slotted lid
13 Moveable blades
Part Number
Description
432-031
FTC THIN BLADE COMPRESSION CELL - MODEL CS-2
Kramer Shear Cell with thirteen, 1.5mm thick, parallel blades and corresponding test cell for compression-extrusion-shear testing of small particulate samples.
432-031-A
FTC THIN BLADE COMPRESSION CELL- MODEL CS-2-A
Thin Bladed Kramer Shear Cell with identical dimensions to the standard CS-2, but made from stainless steel and black Delrin for high acid applications.
Notes
This part is recommended instead of a mini shear cell or Ottowa cell fixture
These fixtures are only suitable for use with:
1000 N or 2500 N loadcells and FTC dovetail top bracket (432-098 or 432-099), or FTA series force transducer
Images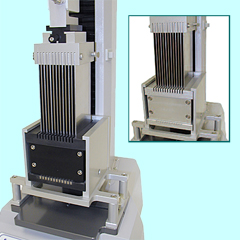 Got a question about a solution? Get in touch and speak to one of our Technical Sales Engineers now...
Speak to an expert