Texture Analysis Solutions
Tomatoes (Canned Diced) Bulk Firmness
Highlights
Scientifically-measured canned product data correlated to known sensory results
Repeatable test method process developed applicable to a range of products using a software-controlled texture analyzer
Precision compression-shear fixture for bulk sample peak firmness indication
Quantified hardness texture for determining an acceptable peak firmness value
Application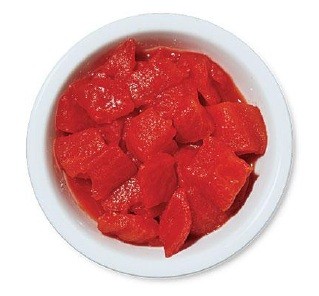 To measure overall firmness of canned, diced tomatoes.
Problem
A processor of canned vegetables, including diced tomatoes, did not have an objective, consistent, repeatable way to measure the firmness of the canned tomatoes nor develop a standard to which to compare all other products.
Sample Preparation
Tomatoes were drained and then put into test cell until test cell was full. That amount was then weighed out in grams. The samples ranged in weight from 204-205 grams.
Solution
Testing was performed with a TMS-Pro Texture Analyzer, a 2500N load cell and the CS-1 Kramer Shear Cell. The test program started at zero, then the blades ran down into the test cell, penetrating/shearing the tomatoes at a speed of 250mm/min and running until the blades penetrated out of the bottom of the test cell then returned back to zero. The graph shows the results of the test.
Conclusion
The test method proved to be successful at establishing a standard for this diced tomato product where the processor can measure all diced tomato products against this one. If the peak is lower or higher than the standard range set forth by this test, the product will fail. If it is within the set range, it will pass.