Texture Analysis Solutions
Granola Bar Bite Force Evaluation
Highlights
Objective measurement test method to evaluate the sensory bite strength experienced from a chewy cereal bar
Repeatable and quick test method using a software-controlled texture analyzer
Precision shear fixture to cut completely through the chocolate-coated granola product
Quantified hardness and cohesiveness texture attributes correlated to initial bite and subsequent effort to detach a mouthful
The Application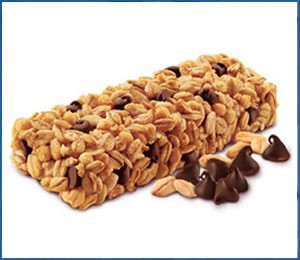 A processor of nutritional and granola bars looking for a quantifiable, consistent way to measure and ultimately better control the texture of their product. Current methods involved simple visual inspections and very subjective human sensory evaluation.
Problem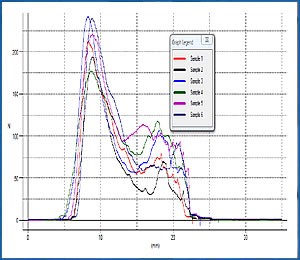 The processor had bars from different formulations with known textural difference detected through sensory analysis. However, they wanted to quantify the data and visualize the difference in the products. Also, they wanted to be able to measure textural properties within the same batches/formulations. A consistent and repeatable method of measuring and therefore controlling the texture is essential.
Solution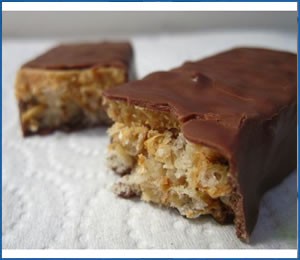 All testing was done using a Texture Analyzer with a light-weight blade set at a speed of 250 mm/min, to a distance of 35mm, which allowed the blade to shear completely through the product. The graph to the right shows when the blade first cuts product (first peak), and then when the blade is slicing through the body of the product (jagged curves). The graph demonstrates consistency in this product batch.
Benefits
Quick and easy test that gives repeatable, objective results that are nearly real time with the processing
Allows for more concise control of textural attributes of the product
Reduces the possibility of downtime due to a product that does not meet quality standards