Texture Analysis Solutions
Cheese Slices Firmness and Stickiness
Highlights
Objective comparison of properties between formulations of processed cheese slice for mouthfeel and manufacturing profiling
Industry-standard TPA method to compress, allow recovery and repeat using a software-controlled texture analyzer
Precision compression probe fixture to replicate bite and chew and evaluate stickiness experienced during slicing
Quantified hardness and adhesiveness texture attributes representing firmess, springiness and stickiness
Situation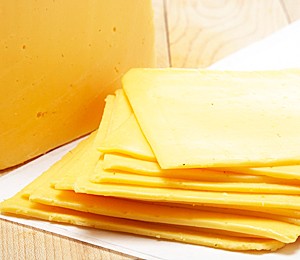 This processor did not have a way to objectively measure the difference in texture between their processed, sliced cheese products which they knew had two different textures by having peformed sensory testing on the products. If the cheese is too soft, it clogs up the industrial slicers. If the cheese is too hard, it will not be a desirable end product for consumer.
Therefore, by being able to measure the exact texture, they can adjust their formulations to make the desirable texture of the cheese.
Method
Testing was performed with a TMS-Pro Texture Analyzer, a 250N load cell and a 1" diameter Clear Perspex cylinder probe. We chose a cylinder probe to replicate feeling the cheese with your finger to indicate firmness. The test performed was a compression test. As such, the program was written to start at zero, run down at 100mm/min until it sensed the top of the cheese, then run into the cheese 12mm at 500mm/min, then return to zero. Samples were stacks of sliced cheese measuring 15mm in height. We chose stacks instead of single cheese slices to get an overall better representation of product texture and saving time by testing more slices at once.
Significance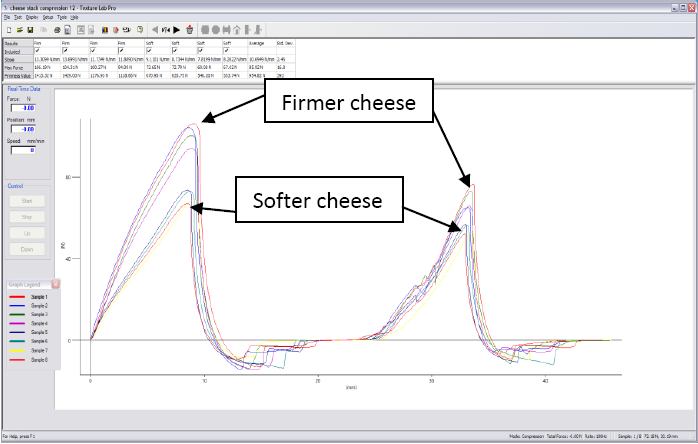 Quick and easy test that gives repeatable, objective results.
Allows for more concise control of textural attributes of the product.
Reduces the possibility of downtime due to a product that does not meet quality standards.
Test can be used as baseline standard, product comparison or both.