Texture Analysis Solutions
Caviar Softness
Highlights
Objective measurement process developed to enable the comparison of samples of varying maturity of caviar
Repeatable and accurate gradation test method using a software-controlled texture analyzer
Precision compression fixture to squeeze a sample size of caviar to the point of "pop" for reference softness
Quantified hardness texture correlated to expert sensory perception of ideal mouthfeel
Situation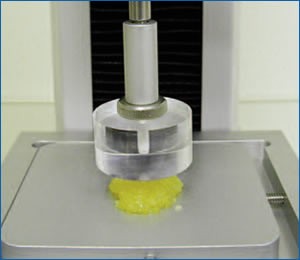 A supplier of fresh fish products wanted an objective method that could reliably determine quality levels of the caviar throughout the harvesting season.
Textural properties of the product have been found to be a key characteristic in the determination of quality. The customer had no real way to measure these differences and therefore, no real data to back up whether the product maintained a certain level of quality.
A compression test was used to provide valuable data regarding the quality of caviar.
Method
FTC offered a compression test solution that could be performed using small amounts of caviar placed upon FTC's standard fixture table.
With a speed setting of 75 millimeters per minute, the sample was compressed using a 38.1mm (1.5 inch) Perspex precision probe cylinder.
The degree of compression was determined prior to testing, enabling the product to rupture, but stop before contact of the Perspex cylinder and the tables surface. Calculations were then performed to measure the peak force encountered for each test replication.
Benefits and Significance
• Simple test to objectively measure the 'pop' of the caviar
• Software facilitates automatic statistical analysis
• Enables customer to put 'real' numbers to their sensory information