Texture Analysis Solutions
Butter vs Margarine Texture Analysis
Highlights
Industry ISO 16305 standard test to compare firmness of butter and alternative spread
Repeatable method using a software-controlled texture analyzer to indicate sample staleness
Industry-standard wire shear fixture to grade the sectility; slicing, spreading and preparation
Quantified hardness texture correlated to consumer-acceptable softness sensory levels
Situation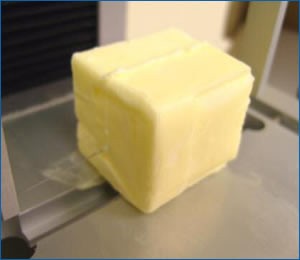 Margarine was developed to be a lower fat replacement for butter. To be successful in this goal, it is important that the two have similar textural properties as well as flavor and color.
While margarine is designed to taste and act like real butter, it is manufactured using completely different ingredients and process. This makes it very difficult for margarine processors to create an identical substitute product. Texture is one of the most important characteristics in these products and often used when making comparisons. Because of this, it is crucial to be able to measure and ultimately, control the texture of the finished product.
Method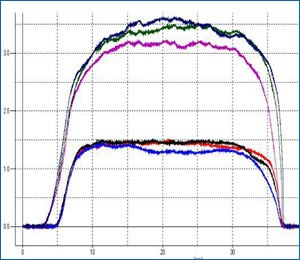 Texture comparisons of the two products were done using the TMS-Pro Texture Analyzer fitted with the TMS Wire Shear Blade and a 25 Newton load cell.
As the shear wire cuts through the product, measurements of the average force and work done (area under the curve) were made. This is an indication of the texture and overall quality of the product. It is also shows how closely the margarine replicates butter firmness, this fixture is the industry standard accessory for the ISO 16305:2005 butter firmness test. It is quite important to consider temperature of the products for this will greatly affect the measurements made. After initial sample preparation, the samples should be placed back into refrigeration long enough to stabilize to the same temperature before testing.
Significance and Benefits
By measuring and therefore controlling texture, a processor can produce a more consistent "on target" product.
Allows users to objectively "see" the difference between butter and margarine products and various formulations.