This set of fixtures and accessories provides a complete solution for extrusion tests on semi-solids and viscous liquids.
The test set consists of three 50mm diameter sample presentation containers - allowing technologists to make tests on prepared samples in triplicate. The containers may be mounted to the supplied bottom plate that allows easy fitting within the TMS Standard fixture table.
Each container has a set of four base discs:
1 x blank (no orifice) for back extrusion
1 x 2mm central hole for forward extrusion
1 x 6mm central hole for forward extrusion
1 x 8mm central hole for forward extrusion
A set of five extrusion cylindrical probes - fitted to the crosshead - complete the fixture:
The largest, of 49 mm diameter, is used in forward extrusion tests where the sample is forced through the selected hole in the base plate.
The remaining 45 mm, 40 mm, 35 mm and 30 mm diameter discs are to be used in back extrusion tests.
Applications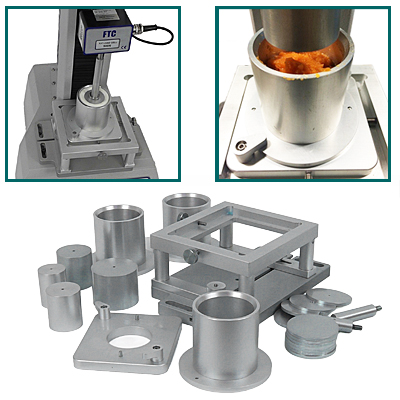 Flow properties of fruit purées
Consistency of fruit toppings and bakery sauces
Body and structure of mayonnaise
Pump thinning of chocolate spread
Stringing of deposited custard sauces
Yield point of flow in icing sugar mixes
Consistency and body of yogurts
Dip thickness and coating properties
Mouth coating properties of processed cheeses
Cohesiveness of paté and meat spreads
Contents and summary
Part Number
Description
432-026
TMS DUAL EXTRUSION CELL
Set of 3 cylindrical pots with 4 changeable bottom plates for back and forward extrusion testing. Includes 5 extrusion probes to accommodate different sizes of sample particulates. Ideal for fruit purees, yogurt products.
Notes
Maximum rating of 500N dependent on loadcell.
This fixture uses 432-100 TMS Extension Piece set to connect to the loadcell.
Images

Got a question about a solution? Get in touch and speak to one of our Technical Sales Engineers now...
Speak to an expert