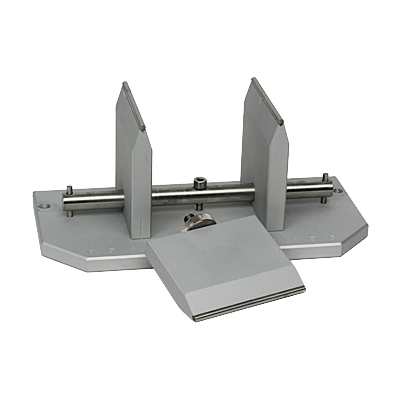 The TMS lightweight three-point bend is a medium scale fixture used to snap, bend and measure the flexure properties of brittle foods such as biscuits, potato chips and vegetable crudités.
The principle component of the fixture is a 120 mm adjustable span support plate which fits directly to the "T" slots on the TMS base.
This plate is constructed from anodized aluminium and comprises of two adjustable 60 mm (2.4 in) high support arms, each of which is capped with hard wearing 3 mm diameter stainless steel rods for friction free and damage proof testing.
The support arms are held in place via a stainless steel locking bar and hex screw, which gives maximum freedom of configuration. A top blade type assembly, also with a 3 mm diameter stainless steel rod, completes the fixture and is used to travel down and snap samples positioned on the support arms.
Applications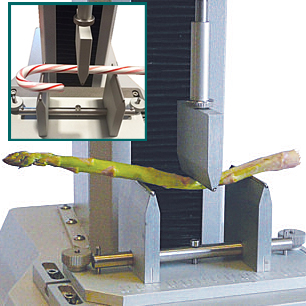 Crispness of vegetable crudités
Break strength of chocolate bars to predict transport damage
Crispness in staling of potato chips
Brittleness and hardness of hard baked biscuits
Flexure and softness of American style cookies
Freshness of asparagus spears
Brittleness and flexure of spaghetti and lasagne sheets
Snap force of tablets
Break strength of tortilla shells
Softening in celery stalks
Contents and summary
Part Number
Description
432-248
TMS LIGHT WEIGHT THREE-POINT BEND
Mid-scale three point bend assembly with 60mm high arms and 120mm support span. Ideal for most snapping applications including cookies, crackers and snack foods. Recommend for use with 'S' beam type load cells and forces are below 1000N.
Images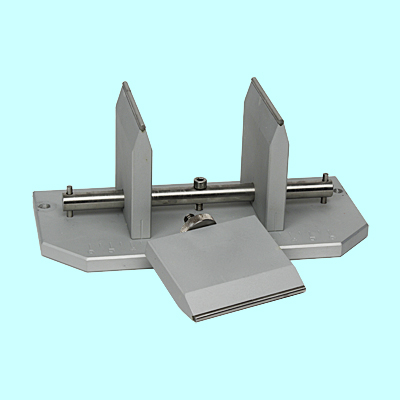 Got a question about a solution? Get in touch and speak to one of our Technical Sales Engineers now...
Speak to an expert